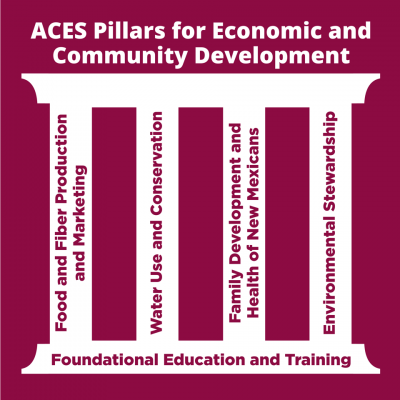 Food & Fiber Production and Marketing
This Pillar addresses the production, protection, and marketing of plant and animal products. College of ACES faculty and staff foster technological innovation to enhance competitiveness and security of New Mexico agriculture, and increase value-added in the state.
Water Use and Conservation
Water is the most limiting resource for New Mexico. All aspects of water use affect agricultural efficiency, profitability, and human health. Water management will become more critical as water demands for urbanization and industrialization increase.
Family Development and Health of New Mexicans
The family is the fundamental institution of society. The College of ACES conducts research on human behavior, child and adolescent development, human nutrition and food science, clothing and textiles, and family resource management. The College's research and Extension programs on human nutrition and wellness are aimed at keeping people from getting sick, and might be considered "preventive medicine" programs.
Environmental Stewardship
Rural and urban human activities affect land, water, and air. Through teaching, research, and Extension programs, the College of ACES is committed to further our understanding, using science-based knowledge, of human impacts on the environment, and to support environmentally-sound agricultural and natural resource practices.
Foundational Education and Training
The College of ACES conducts traditional education functions, like other NMSU colleges. The academic programs are enriched by participation from researchers and Extension faculty, so learning opportunities are not limited to the classroom, thus preparing students for their chosen professions.